FRESH OYSTERS

Have them Natural, Kilpatrick or with our Raspberry Salsa Verjus

SOUP OF THE DAY

Seasonal Chef's Special. Add Fresh Oven Baked Bread: $4.

Labels:

GF / V on request

BRUSCHETTA

Sundried Tomatoes, Black Olives, Feta & Balsamic Glaze

BREAD AND DIPS

Spicy Capsicum, Tzatziki, Guacamole with Oven Baked Bread

OLIVES WITH BREAD

Marinated Mixed olives, served with Oven Baked Bread

CRUMBLED CAMEMBERT

Fried and served with Rum Soaked Grapes and Crackers

MEATBALLS

Homemade Beef Meatballs in rich Napoli Sauce & Parmesan Add Oven Baked Bread: $4

HOT CHICKEN WINGS

Crunchy Fried Chicken Wings with BBQ & Sriracha Sauce

MINI BURGER

Beef, Tomato, Lettuce, Cheddar, Red Onion, Aioli with Steak Fries

CHILLI PRAWNS

Seared Prawns in a Homemade Creamy, Sriracha Sauce. Add Oven Baked Bread: $4

MUSSELS

Tossed in Ginger Vin Blanc & Spiced Salt. Add Oven Baked Bread: $4

GRILLED SQUID

Served with fresh Garden Salad, Aioli & Balsamic Glaze.

CHARCUTERIE BOARD

Salami, Prosciutto & pan seared Chorizo with Oven Baked Bread & Almonds

CHEF'S SELECTION TASTING PLATTER

Chef's Top Picks of The Day, Please Ask Your Server For Details.
PIE OF THE DAY

LAMB SALAD

Red Onion, Olives, Fetta, Greens, Lemon Wedge and Tzatziki

FISH AND CHIPS

Beer Battered Flathead Tails, Crispy Chips & Homemade Tartar Sauce

LAMB RAGU FETUCCINE

Slow Braised Neck Dices, Topped with Parmesan

THE MILL BURGER

Homemade Beef Patty, Bacon, Egg, Aged Cheddar & Tomato Mustard with Steak Fries

ROASTED CHICKEN BREAST

Crushed Potatoes, Glazed Apricots, Bacon & Broccoli

BRAISED LAMB SHANK

Slow cooked on a Bed of Creamy Mashed Potato

PAN-SEARED SALMON

Crispy skin with Basil Pesto Puree, fresh Garden Salad & Lemon Wedge

CRISPY SKIN PORK BELLY

Oven Baked, with Creamy Mash, Sweetened Apple Compote & Gravy

THE MILLS 'SEAFOOD BASKET'

Battered Fish, Mixed Selection of Spiced Calamari, Scallops, Prawns & Mussels with a fresh Natural Oyster & Side of Chips

CHAR-GRILLED EYE FILLET (250G)

Fondant Potato, Green Beans with Mustard Foam & Wasabi Dust

RIB-EYE STEAK (300G)

On the Bone, with Steak Fries & Mixed Garden Salad
GARLIC PIZZA

Homemade pizza base with garlic paste. Add Cheese: $3

Labels:

GF / V on request

MARGHERITA PIZZA

Napoli Sauce, Mozzarella, Oregano and Fresh Basil

Labels:

GF / V on request

BARBECUE CHICKEN PIZZA

Diced Chicken pieces, Napoli, Mozzarella, Fresh Basil and Barbecue Sauce

MEATLOVERS PIZZA

Hot Salami, Diced Meatballs, Napoli Sauce, Mozzarella

PANCETTA PIZZA

Pancetta, Napoli, Mozzarella, Fresh Basil. Add Pineapple: $3

PUMPKIN & BEETROOT PIZZA

Roasted Pumpkin, Beetroot, Napoli, Mozzarella, Rocket Salad & Shaved Almonds
PUMPKIN RISTOTTO

Roasted Pumpkin, Preserved Lemon, Pine Nuts topped with Danish Feta

MUSHROOM FETTUCINE

Creamy Mushroom, Garlic Sauce topped with Shaved Parmesan. Add Chicken: $5

BUTTERNUT PUMPKIN GNOCCHI

House made Gnocchi tossed in Olive Oil, Pine Nuts, Baby Spinach topped with Parmesan

VEGGIE BURGER

Mixed vegetable patty, Lettuce, Tomato, Onion, Pickle Aged Cheddar with Steak Fries

EGGPLANT PARMIGIANA

Topped with Napoli, Mozzarella, with Fresh Garden Salad & Steak Fries
WHITE CHOCOLATE FONDANT

Baked Hot Salted Caramel Sponge served with Ice Cream & Fresh Strawberry

CHOCOLATE PISTACHIO BROWNIE

Homemade served with Whiskey Drizzle, Whipped Cream & Fresh Strawberry

VANILLA CHEESECAKE

Homemade with Raspberry Jelly, Orange Syrup, Whipped Cream & Fresh Strawberry

BANANA FRITTER

Fried with Salted Caramel, Raspberry Compote & Whipped Cream

CHEESE PLATTER

Choose between either One or Three Cheeses – either Aged Cheddar, Blue, Brie or Camembert served with Crackers, Fruit and Nuts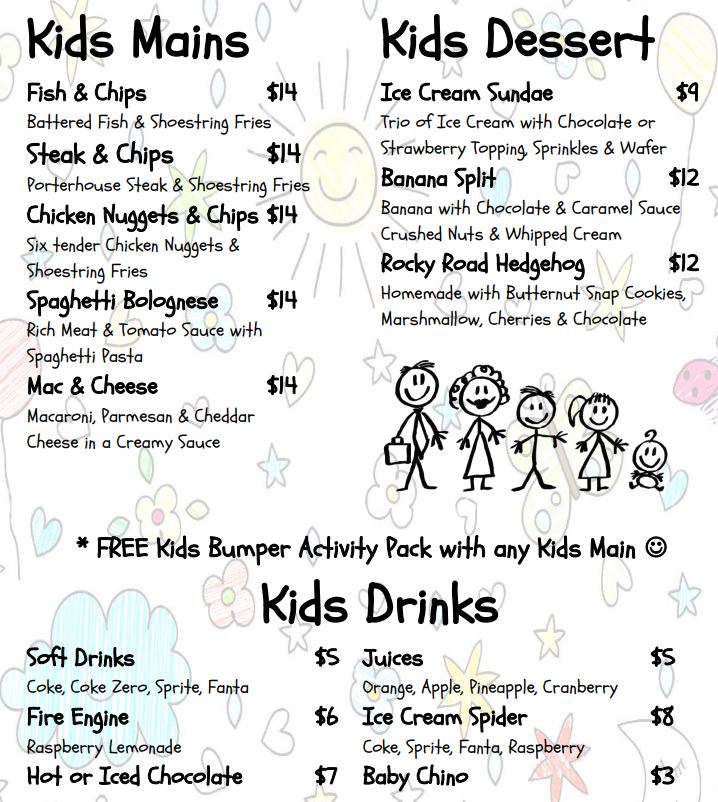 Group bookings? We have you sorted at the Mill and Charlie's Bar.
Choose from our 2 and 3 Course, Gold or Platinum selections
Sharing Platters are also available